NVQ Tiling Course Content
Goldtrowel can and will teach anybody all the skills and knowledge of wall and floor tiling, many think that tiling is one of the easier trades to learn, and whilst many DIYers have managed to tile there own homes, this does not mean they can tile, and normally they succeeded due to luck! there are so many facets to learn to ensure the job is done to standards, without this there is a great risk of failure, this is a common occurrence in domestic homes, the real problem of this is the cost of correcting the problems, as tiles and materials are unrecoverable. during your 4 weeks you will have your own equipped bathroom ensuring you learn the needs and requirements for backgrounds and tile types, preparation and fixing the tiles successfully, and after assessment have your full NVQ Level 2 in Wall and Floor Tiling.
What you can expect to learn from this Tiling course
Correctly lay / fix and cut floor and wall tiles to various backgrounds and shapes.
Understand the different types of Primers and how to use them.
Differences between Ceramic, Porcelain, Mosaic and Natural Stone tiles.
Tools and equipment usage, differences and specialty types.
Working in wet areas such as wet rooms and showers, applying tanking systems.
How to successfully lay sand and cement floor screeds.
Prepare all types of backgrounds including wood, plaster, render, screed.
Full understanding of how to correctly set out walls and floors prior to fixing the tiles.
Full understanding of Grouting techniques, types and uses, and methods of application.
How to make good damaged walls, using basic plastering skills.
How to correctly apply silicon mastic, problems and options.
NVQ guidance including pricing, quotes, quantification and much more.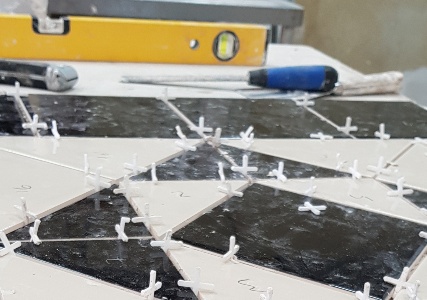 During training please feel free to ask any questions you have, we actually welcome your questions, and remember there is no such thing as a `stupid` question! your training will not be rushed, but you will be pushed to realise your full potential, you will be allocated your own room from various rooms available, during your course you will work in various rooms and situations so to learn and understand various situations and problems, the walls and ceilings you will tile are of the same standard found in domestic homes, which truth be told are not flat, not square and generally out of shape, the difference between preparing and tiling existing wall / floors is huge.
Pre-course Study Guide and After Care Support
Before starting your course you will have access to our unique Goldtrowel illustrated training manual, which you can refer to in the future.
Upon completion of your course you can call our helpful and friendly staff if ever you need advice or guidance on any matter. Goldtrowel also offer and can supply tiling tools and equipment, ensuring you don`t waste time and money on inferior tools, this package is unique to Goldtrowel students.
NVQ Wall & Floor Tiling Course - Content Breakdown
Monday
In depth discussions and demonstrations of materials, backgrounds, tools, setting out, mixing adhesives, general health and safety, basic setting out procedures, tile fixing procedures and tile types, this will all come with examples of problems that may be found with alternative and DIY ways of tiling.
You will correctly start fixing your tiles after checks and setting out to the wall.
Tuesday
Continuing from the previous day you will continue tiling and checking as instructed.
Wednesday
Continuing from the previous day, you will now encounter openings, externals and internal angles, you will have discussions and demonstrations of how to cut tiles using various tools, cutters and equipment.
You will continue tiling using your new skills to cut tiles using methods shown.
Thursday
Continuing form the previous day you will now have discussions and demonstrations about tile trim types, you will learn how to cut fix and mitre using various methods, after which you shall cut and fix trim to your window reveals, and finish with cut reveal tiles.
Later in the day you will have more discussions and demonstration on grouting types, techniques and procedures, you will then grout your finished tiling using the correct tools to achieve a 'high end' finished job.
Friday
Discussion and examples of removal of tiles and the options available, you will then remove your wall tiles and prepare the wall ready for next student.
Discussion and demonstration of setting out floor tiles and options available, cutting floor tiles around obstacles with options available, fixing techniques and options, you will lay and cut floor tiles to your floor.
After removing your floor tiles you will have discussions and demonstration of tanking systems and options available.
End of course re-cap and distribution of course notes and awarding of Goldtrowel training certificate.
Week 2 - This week follows to a degree the same as week 1, but you will be moving into different rooms, with each room having its own unique problems, these differences highlight the skills required to successfully complete tiling tasks in different houses / environments, you will then tile more area in your own fully equipped bathroom with added problems to set out and cut around.
In addition to the skills learnt in week 1, you will learn new skills (traits) such as tiling with mosaic tiling, working with pattern tiling such as Victorian tiling and inset tiles.
Other new skills learnt in week 2 is the problems encountered and how to overcome them when setting out more complexed rooms including bathrooms, wet rooms, kitchens and complexed floor tiling.
You will have discussions and demonstrations about how to correctly lay under tile electric heating systems.
Discussions and demonstrations on laying levelling compounds, you will have the opportunity to lay some levelling compound.
Week 3 - This week follows suit with the previous 2 weeks, but each room, wall or floor you tile during this week will become more problematic and use large format tiles.
You will embark the use of some specialist tools and equipment, commonly associated with site tiling, such as angle grinders, Levelling systems, Industrial Diamond Wet Cutters, Specialist trowels and labour saving materials.
You will learn to set out complex tile layouts such as 'Brick Bond' and 'Herringbone'
Week 4 - This final week will be used to practice any of your weak points highlighted over the previous weeks, you will also have the chance to lay large format wall and/or floor tiles, and to speed tile this will give you the confidence of site working at the same time as showing you your full capabilities.
You will attend your Tiling NVQ induction and be guided by your assessor, you will receive your NVQ portfolio and make a start, this will give you the confidence and knowledge to complete once working.
You will have practical and knowledge training in all 5 NVQ Units (4 mandatory plus 1 optional) these units are prescribed from National Occupational Standards in conjunction with CITB and the awarding bodies.
You will be registered in the last week of your course with leading awarding body NOCN/CSkills, your proof of registration can be emailed so that you can obtain your CSCS card.
Frequently asked questions
Below are the most common questions that we get asked.
The ability, confidence and knowledge to tile walls and floors to a professional standard. You will gain the vital information and knowledge that is paramount for your tiling projects to survive, you will be able to work as a wall and floor tiler in both domestic or site work locations.
Yes you will after assessment you will achieve a NVQ Level 2 in Wall and Floor Tiling. This is a competence qualification and therefore is assessed in your day to day work, once the criteria has been met you will be a fully qualified wall and floor tiler.
Yes you can work in both site or domestic. because you have completed the NVQ level 2 course, you will be entitled to work anywhere, we will fully train you for both environments.
No this course is a `hands on` practical plastering course. However there are some points during your training when you are being taught how to price and successfully run your business that will involve some written work and basic mathematics, but your instructor / assessor will help you regardless of individual abilities.
No, our course content is strategically designed to maximize your learning. But we do have other courses that specialise in just 1 or 2 traits of tiling, such as large format tiles, tanking systems, Victorian tiling, Mosaic.
We have a maximum of 8 people on this course. Although often there are 4 in each group of new starters, we have learnt from over 20 years of training, what group size works the best for the learner outcome.
The only thing you need to bring is suitable clothing. All tools and equipment are supplied for you during your tiling course, we only use quality tools and equipment.
This is the accordion body. It is hidden by default, until the collapse plugin adds the appropriate classes that we use to style each element. These classes control the overall appearance, as well as the showing and hiding via CSS transitions. You can modify any of this with custom CSS or overriding our default variables. Its also worth noting that just about any HTML can go within the .accordion-body, though the transition does limit overflow.
Tiling Jargon Explained
Adhesive – used for bonding tile to a surface.
Border – a strip of tile with design, texture or contrasting color that creates a design concept.
Breaking strength – the force needed to break a tile.
Brushed finish – a finish resulting from treating the stone surface with a coarse wire rotary brush.
Bullnose – a trim tile with a convex radius or finished edge on one side. commonly used for finishing steps and of outside corners.
Buttering or Back Buttering – The spreading of adhesive on the back of a porcelain or ceramic tile immediately before the tile is installed.
Caulk – a type of mastic which can be painted.
Color Body – The tile in which the body of the tile is similar in color to the surface of the tile.
Cure – the time period that a tile installation setting material must be undisturbed and allowed to set for it to reach full strength.
Decorative tile – any tile face with a decoration on the surface.
Epoxy adhesive / Grout - a two part adhesive system consisting of epoxy resin and epoxy hardener, this product has impervious qualities and from staining along with great chemical resistance.
Floor tile – a tile that has been fired to temperatures that ensure it has the hardness to meet floor tile standards.
Frost resistant –Vitreous tile that absorbs .5% to 3%
Frost proof – impervious tile that absorbs 0% to 0.5%. Best tile for outdoor use.
Grout – silica sand, cement and chemical mix for filling tile joints. Available in a wide variety of colors.
Glazed tile – a tile that has an impervious facial finish composed of thin layers of glass fused to the surface of the tile.
Granite – a natural stone more dense than marble. Granite is molten lava that never rose above the surface of the earth. It is extremely durable and holds a polish. Available in polished, honed or flamed (rough) surfaces.
Impervious tile – has water absorption of 0.5% or less.
Limestone – sedimentary stone that could have fossils or shells. Usually comes with a honed (matte) finish. Not a wide variety of color; stones have little variety from piece to piece.
Listello – a decorative border, primarily for walls.
Marble – a natural stone product quarried from the earth. It gets a distinctive shine from the polishing process it goes through. Available in multiple finishes and a wide variety of colors.
Mastic – Silicon mastic is a waterproof flexible sealant used for sealing internals.
Mosaics – ceramic, porcelain, glass, metal or stone tile mounted on mesh for ease of installation. May come in squares, octagons, hexagons or random shapes.
Porcelain – Characterized by a dense and impervious body generally made of the dust–pressed method.
Quarry tile – commonly 6×6 they are an impervious unglazed tile.
'R' Value - this is a grading showing how slippery the tile is, it ranges from R9 - R13 the higher the number the better the slip resistance.
Sealer – a penetrate applied to prevent the absorption of liquids or other debris. Used with porous materials including: quarry tile, grout, and natural stone. Sealer is not necessary for glazed ceramic tile.
Slate – a natural material that is known for its dynamic colors and "earthy" appeal. Colors range from grey to purple to black. Slate is used outside as well as inside because of its natural look and wonderful colors.
Spacers – plastic pieces that are used in installation to evenly separate tile. Manufactured in various thicknesses and shapes.
Substrate – the underlayment for the ceramic tile installation.
Thin–set – term used to describe the bond coat in a thin bed installation. It is made of sand, cement and usually a latex additive.
Through Body Porcelain – porcelain tile in which the pattern on the surface of the tile goes through the body of the tile.
Tile – a ceramic unit, usually thin in relation to facial area. Made from clay or a mixture of clay and other ceramic material. Has a glazed or an unglazed face.
Travertine – similar composition to limestone but with holes created by hot springs. Colors include beige, red, yellow and brown, with some variation from piece to piece.
Trim pieces – various shaped of bases, caps, corners, moldings, angles, etc.
Tumbled – a finish achieved by placing stone tiles in a tumbling machine, sometimes with the addition of acids, to soften the edges and give the surface a worn look.
Unglazed tile – a hard, dense tile of uniform composition. No glaze.
Vitreous tile – has water absorption of more than 0.5%, but not more than 3%.
Wall tile – glazed tile with a body suitable for interior use. Not expected to withstand excessive impact or be subject to freezing/thawing conditions. It is not appropriate for use on a floor.