How to Fix Plasterboard
Plaster Boarding | Setting Beads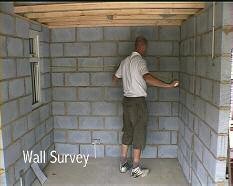 Wall Survey
Carry out the survey, this determines the type and quantity of materials to be used, if you over calculate you may lose the job, if you under calculate you may not be prepared on the day, remember to add 10% for cut off waste.
Check the walls for level and the ceiling for equality across the joists so that the board sits flush.
In this image we are also surveying the walls as they are going to be plasterboarded using the Dot and Dab method for solid walls.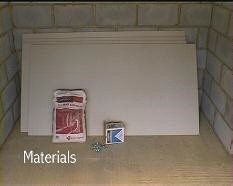 Materials
We prefer using 12.5mm plasterboard as they lay flatter, are more rigid and have better acoustic and fire protection qualities than 9.5mm boards, boards come in two sizes 1800mm x 900mm and 2400 x 1200mm, the larger boards are harder to handle if working alone but have the benefit of covering more area and more importantly they have less joins thus less liable to crack, fixing plasterboards are now nearly always fixed using black drywall screws.
(The bag of plaster shown is for Dot and Dab method not required for this exercise.)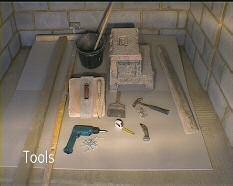 Tools (not all pictured required)
Dead Man or Plasterboard prop (easy prop) helpful when working alone.
Spirit Level.
Hop up (Step)
Measuring Tape.
Knife.
Straight Edge
Surform.
Claw Hammer.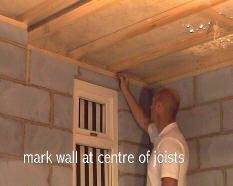 Marking out
Marking out the joists is particularly useful on large ceilings, but makes life easier on any ceiling, by marking the walls at the end of the joists ensures that when you put the plasterboard to the ceiling you can ensure that the screws.